These days more and more businesses are outsourcing their technical support processes to third-party support providers. It is important for any kind of business from start-ups to large enterprises, to know exactly why and when they should or should not outsource their technical support processes.
There are pros and cons to outsourcing and one must be familiar with them before making any decisions regarding the same. Here is a guide to what to consider before outsourcing your tech-support process.
Before you start looking for third-party service providers, determine your needs with the outsourcing program. Do you need around-the-clock service, or is it that you simply need to have emails answered, appointment scheduling, etc?
The benefits of outsourcing include freeing-up of management time to converge on core-competencies, adding both capacity and specialized skills to your business, increasing efficiency by managing fluctuations in the workflow, lowering costs, among other things. Thus, is very important to clearly define the scope of tasks to be outsourced and the benefits that come along with them.
Once you have a clearly defined set of tasks that you intend to outsource and its scope, the next thing you need to do is check the experiences of the vendors in accomplishing these tasks that you are outsourcing. What you should look for is the number of projects completed, types of clients handled, specialization skills in case of knowledge-intensive projects, etc. you can also look for the experience of the management team, project leaders and other team members. Also, if you are entering into a long-term contract it is advisable to interact with the proposed team members (a mini-interview if you will) before signing the contract. This helps to create a better understanding between you and the team.
Ask for reference and work sample
You need to understand your vendor's scope and quality of services, their client engagement practices, delivery and turnaround time, etc. in order to do that it best to seek client reference from them. Keep in mind to check any challenges that may appear in the course of work and find the best route to overcome those. Further, you can ask for samples of work done by the vendor previously in order to better understand their capabilities. It may be so that they cannot provide you with actual samples owing to customer confidentialities; in such cases respect that constraint and ask for prototypes made for marketing purposes.
Guarantee good communication and client management practices.
Ensuring good communication with your outsourced vendor is critical to either make or break the deal. Find out their working hours (does it overlap with your own and if it does then by how much) and the time zone in which they operate. Find out the best communication channel between you and the vendor team; whether or not they are available in an e-mail, phone, VOIP (Skype), etc. find out your point of contact in the team if you have any queries and their response time to this extent. Also, keep a clear idea about whether or not the vendor understands your organization and your visions beyond the scope of the immediate project. This is critical to building a long-term relationship with your vendors.
Measure financial stability
In the case of long-term contracts, it is important to make sure that your partners are financially stable and capable of handling such cases. In these cases, it is important to do an in-depth assessment of the vendor's financial health in order to carry out the contract.
Check IT infrastructures and quality certifications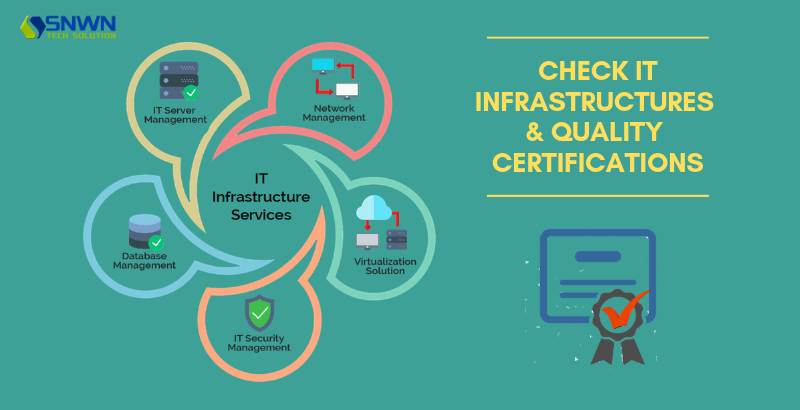 This is again, related to large outsourcing associations where state of the art IT infrastructure is essential. Let's say for example you are involved in a partnership, which involves sharing of confidential client/customer data. It is important to make sure that this information remains safe and secure. Information security is crucial for these kinds of client-vendor relations.
Check if your vendors have authorizations that help set up processes to manage projects, maintain quality and deliver the work; namely CMMi, ISO certificates, Microsoft competency certificates, etc.
Discuss security and privacy issues
Once again, data security and privacy are very crucial. Dig into the security structure of your vendor's infrastructure. Keep a clear record of their private security and privacy policies and methods. It is important to know where how safely your client/customer data is kept under their watch. Check if they have a recoverable disaster recovery plan.
Know how much you will be charged
Keep track of your costs. Ask your vendors about their method of charging; is it by rounding up to the next minute or to the next second, things like that. Also, make sure your vendors do not charge you for your customer's time on hold.
Recruit specialists, start small and minimize risks. Big enterprises with standard outsourcing tasks generally opt for large outsourcing agencies, as they are more likely to meet all the above conditions. If your business is as such, then large outsourcing vendors are your best choice.
However, in the case of small businesses looking for a cost-effective and flexible work plan with small outsourcing budgets, small vendors are the best choice. This is because large outsourcing agencies will charge more and their attention may be somewhat dimmed with small clients.
Furthermore, if only an industry/domain specialist can meet your demands, then you must opt for small outsourcing providers, as they will have greater experience and innovative work-rate.
Overall, it is better to start small (maybe with a pilot project and a smaller team) irrespective of what type of vendors you chose. Scale-up with time and keep assessing your vendor needs and their quality of business.
I hope this guide helps you to choose the appropriate vendor for your future endeavors.