All it takes is a blink of an eye for a customer to fix whether to continue or move on when they are online to any of E-commerce website. Many e-commerce companies have been failed to notice this fact nature of consumers. For instance, we see many sites that have lots of traffic and we face many problems to log in or reach to the page. So in order to avoid that traffic or any obstacle you should always observe your domain of e-commerce websites. It also avoids the situation of taking the website down with the considerable loss revenue of any website.
E-Commerce can be referred to as selling and buying of goods and services, conveying of assets or information on an electronic network, basically on the web. These business transactions occur in the form of business to business (B2B), consumers to business (C2B) or consumer to consumer (C2C). E-Commerce is performed by several ways of applications such as online catalogs, emails, shopping carts, etc. Typical E-Commerce applications supporting a number of steps along with browsing, login, add to cart, preview and check out process.
To keep several customers hold is a tough task for every e-commerce company is struggling with such short and impracticable attention. Though, because of a challenging environment for these industries, their growth opportunities are many that are approaching e-commerce companies adding things that make sure customers having excellent shopping experience visiting their website.
There are many reasons to monitor their e-commerce website:-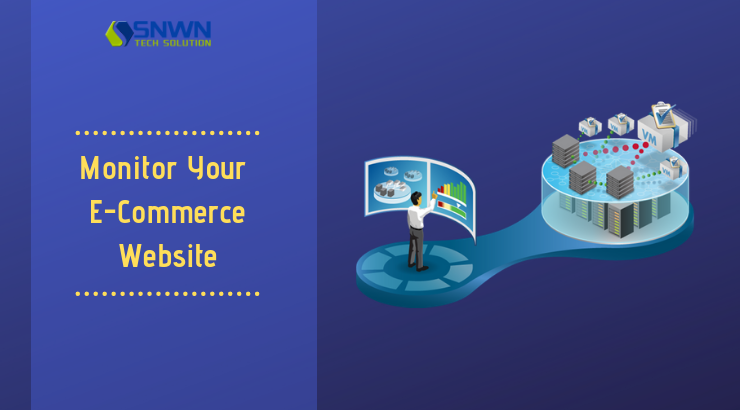 It is necessary to monitor your site, mainly e-commerce retailers. Customer who is online expects everything to flawless, from the time of searching for the product to its checkout. If there are any obstacles in between the process, situations can be difficult to rebound.
Down are the top 5 reasons why e-commerce sites must use monitoring:–
Here 5 monitoring tools are stated that will help you to understand, the importance of observing e-commerce site.
1.    Site Functionality
Important theory of e-Commerce sites is that customer has the ability to buy online. Regardless of the possibility that one page has an error, it could influence deals enormously. Consistent observing of an online store is the best way to preserve and correct coming problems.
2.    Speed and Performance
Speed and performance should be maintained timely. They need an observation tool that takes into account page analytics to maintain the speed requirements based on recent and past traffic to site.
3.    Reputation
E-Commerce websites need to consider the impact of web page disappointments and monitor their website legitimately to evade and rapidly address any issues.
4.    Checkout
Online observing is unmistakably essential in such manner, as the online store owner will be told of an issue as it is going on, and not from old feedback.
5.    Out of Stock
An online store owner must constantly observe the purchasing behavior of the customers on a variety of factors. This means that the ebbs and flows of the inventory should be properly monitored along with the trends in demands and consumer behavior.