In the digital world, every agency owner finds it a very difficult task to handle everything from websites and marketing campaigns to reputation management and social media.
Moreover, as the local businesses are continuously finding themselves in need of growing marketing assemble it becomes hard for keeping track of all your clients' and their requirements and demands.
We are in an age where many local businesses are always in search of more marketing contributions from fewer partners in order to juggle as fewer companies and contracts as possible.
This makes it difficult for a business to focus only on what they do best. It is here that White Label solutions like the software(s), services and products play a major role in transforming an incomplete business into a full-service providing agency.
But what is a White Label Solution and what does that mean? In its simplest terms, a White Label solution is a product or service that you can rebrand and resell as your own product to your clients.
In order to understand the concept of White Label solutions let us take an example of Company A and Company B.
Say Company B wants to develop a website and assigns the project to another organisation namely Company A. Now Company A will finish the project and hand over the product to Company B.
Company B will now rebrand the product under their brand and resell it to their clients. Thus it can be seen that Company A is technically the brains behind the product while Company B is the face of the product.
The most significant benefits one can gain from availing these solutions is bringing scalability to their business is by scaling up their revenues.
The basic definition of the term White label solutions can explain how it can help to scale up your revenues as you are rebranding and reselling products that were developed through outsourcing.
This means the cost of manufacturing becomes significantly less and profits from reselling the product become quite high.
So now that we know what White Label solutions are and how they can benefit to improve revenues, let us look at what these solutions are and what genres they are available in.
9 White Label Solutions for better revenues :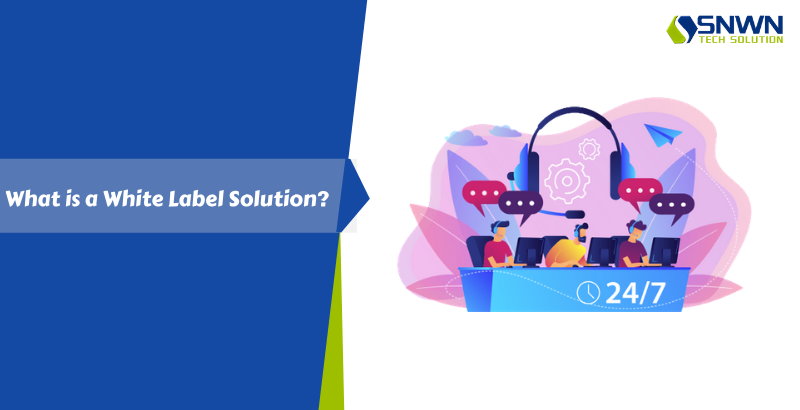 1. White Label Social Media Marketing
Various social media services such as managed posting, business management, campaign designs along with social media content creation compile White Label Social Media Marketing Solutions.
These are available for rebranding and then can be sold by resellers while keeping their own price tag over the products.
2. White Label Website Solutions
Any website related service or product that can be rebranded and sold as their own by a reseller can be grouped under White Label Website Solution(s).
Services enveloped under this genre may include website hosting reseller programs, web design services that can be rebranded as well as website add-ons that can be resold.
Design and development services provided by third parties are the most common form of White Label Website Solution. Once again these products are sold by resellers with their own price tag.
3. White Label Digital Advertisement
In general, White Label Digital Advertisement encompasses various digital advertisement solutions like advertising platforms and reports, campaigns and/or products.
These are again of course rebranded by resellers and sold at their won price point to local businesses. It must be noted that digital advertising is generally categorised under marketing services and for that reason the most common form of a White Label solution in this field is service fulfilment.
This means a reselling agency can partner-up with a white-label service provider in who will design, develop and maintain the digital advertising campaigns for the resellers and they, in turn, can sell it by branding the product under their banner.
4. White Label Email Marketing
Simply put any email marketing platform built by a white-label service provider to resellers so that they can rebrand the product and sell it under their own pricing schemes can be termed as a White label Email Marketing solution.
A white-label email marketing platform can be rebranded by customising with the reseller brand and sold to local businesses like any other white label solutions we have seen so far.
5. White Label Mobile Apps
With the ever-growing digital world, it is no longer sufficient for local businesses to maintain a website presence only. With the active and spontaneous shift towards mobiles, the necessity of a mobile app for these businesses is very apparent.
As businesses in this modern world of marketing want to reach the clients where they live a mobile app is a very clever idea as according to researches 90% of the time spent on mobiles by us is devoted towards using an app.
Additional overhead costs always come into the scenario as app development is a complex process. By outsourcing, this task businesses can effectively cut costs.

6. White Label Reputation Management
Products that deal with the online reputation of a business and reviews are termed as reputation management service.
Such services that can be rebranded and resold by reseller companies are what we call White Label Reputation Management Solution.
That said, only a few aspects of reputation management services can be white-labelled.
While softwares for monitoring the reputation of a business can be rebranded whereas review response and review generation services fall under a white-labelled fulfilment option.
7. White Label SEO
Like every other service we have seen so far, White Label SEO is nothing but SEO solutions and platforms that can be rebranded by reseller companies and sold at their own price.
White Label SEO Solutions are specifically designed to fetch local business clients found on SERP and increase the visibility of the businesses.
White Label SEO options can include both managed fulfilment products and SEO software that clients can use to manage their optimization processes manually.
8. White Label Graphic Design
White Label Graphic Design solutions include custom-designed projects that a reseller can brand as their own and sell under their own price tag.
This is generally offered by a specialist graphic designer and/or design agencies specializing in graphic designs. It can be also so that the graphic designers from a white label provider work directly with the end client but under the shadow of a reseller company who is branding the service as their own.
9. White Label Content Creation
In the case of White label Content Creation Solutions, copywriters generally provide the written content for rebranding by reseller clients who in turn provide them to local businesses under their own pricing format.
It can be social media posts, blogs, website copies and any other form of digital written copy.
This particular service can be offered in various ways. It can be a one-time purchase for example a blog. It can also be an ongoing service like a specific number of social media posts per month.
CONCLUSION :
We have thus seen some of the most popular White Label Solutions for boosting your businesses' revenues. So check out the various white-label providers out there, choose the solution and pricing plan that suits your needs the best and get started on booming your business over your competitor.