Nowadays, a large proportion of the urban population shops online. So, in eCommerce business spheres it is not just about getting the right customer but also about keeping them interested in your shop. The trend of online shopping leaves a vast variety of options to the customers and a single slip-up can result in these customers migrating to the competitors.
Quality customer service plays a very crucial role in online businesses and It is the customers who spread the word about you and helps build a good customer base. Customer service is the answer to creating a comfortable shopping environment for your shoppers so that they feel comfortable with your services. This may include, phone support, email, as well as emerging communication channels like live chat support.
Live chat support offers the shoppers a comfortable and convenient platform where they can chat with a "shopping assistant" or customer support executive, while being logged on to your site/store. Recent market studies show that, online businesses that feature live chat as part of customer communication are seen to enjoy better results – essentially cost reduction, revenue growth, and customer satisfaction – than those that do not. Another study shows that 56% of the urban population (aged 18 to 34 years) prefer live chat to telephonic conversations compared to the remaining 27% (aged 35 years and above). Besides all of this a survey of American online consumers shows that, 68% engage in live chat and 63% prefer getting back to a website with live chat for repeat purchase.
There are two types of consumers who use live chat for help. The first group are your potential buyers and the most common questions they pose are:
Want to know more about product specifications
cannot find specific item(s) on a given website
Want to compare products
These scenarios extremely influence purchase decisions. Actually, more than 38% of online customers took their purchase decision due to live chat session. Live chat agents play a very important role in this regard and if they are well trained then they can help generate much more sales.
The second group are your existing customers and their points of enquiry are:
Want to know the status of their order
Want to ask about "Return policies"
Reporting bugs or suggesting improvements in your service etc.
Some of the significances of Live Chat Support for eCommerce businesses are discussed below: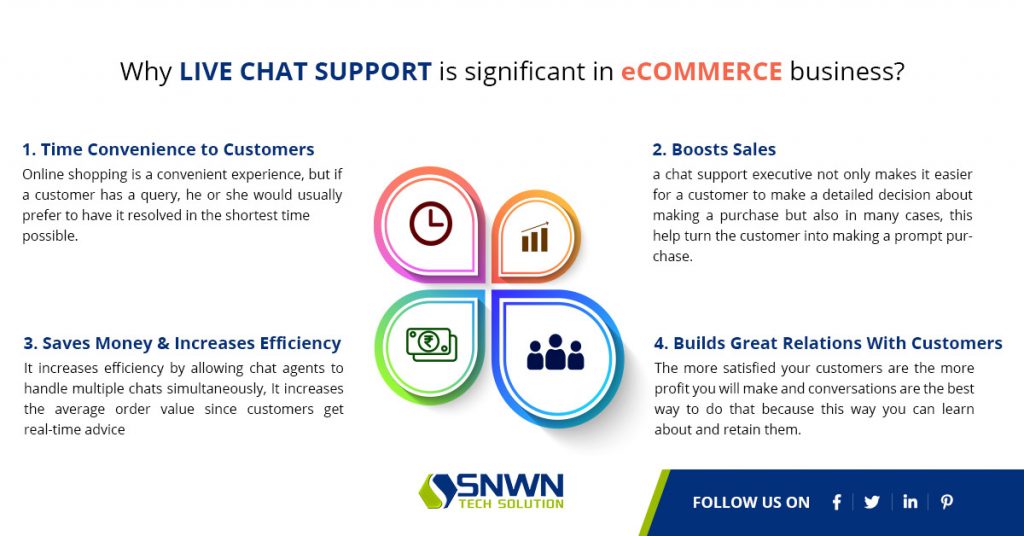 Time Convenience to Customers
Online shopping is a convenient experience, but if a customer has a query, he or she would usually prefer to have it resolved in the shortest time possible. It takes time for a customer to find out your toll-free (customer support) number and dial it. This becomes a drawn-out process, as they have to wait until the voice executive comes to handle the query. Email support takes a much longer time and social media requires browsing thoroughly. Thus, live chat is the perfect alternative, capable of instantly solving any concerns. It also allows the customer to multi-task, while waiting, although their wait is not for long.
Studies also show that within the online channel, live chat has become the leading contact source, as 42% of full-service customers prefer using a live online chat feature vs. Email (23%) or other social media forum (16%). Moreover, online satisfaction is maximum among customers who use the chat feature.
2. Saves money and increases Efficiency
There are three main reasons why Live Chat Support can cut costs:
It increases efficiency by allowing chat agents to handle multiple chats simultaneously, thus eliminates the need for hiring more agents, thereby saving money. Intelligent live chat software such as LiveAgent allows multiple options for chat distribution and utilization.
It increases the average order value since customers get real-time advice and answers to any queries they might have. It saves product return expenses as a chat agent can help your customers pick the right product or service, which suits them best, thus he or she will be satisfied with it and hence they won't need to return it back.
Chat Support reduces overall helpdesk center costs by lowering the average interaction cost, waiting queue time when compared to a call center.
Thus, we can see that live chat support can cut costs around every corner and can also give a boost to your online business portal.
3. Boosts Sales
Much like the way in which a salesperson in a physical store walks a confused customer through all the available products along with every detail about them, a chat support executive not only makes it easier for a customer to make a detailed decision about making a purchase but also in many cases, this help turn the customer into making a prompt purchase. This feature obviously boosts sales for the business. However, well-trained staff is required for this.

4. Builds long-term relations with your Customers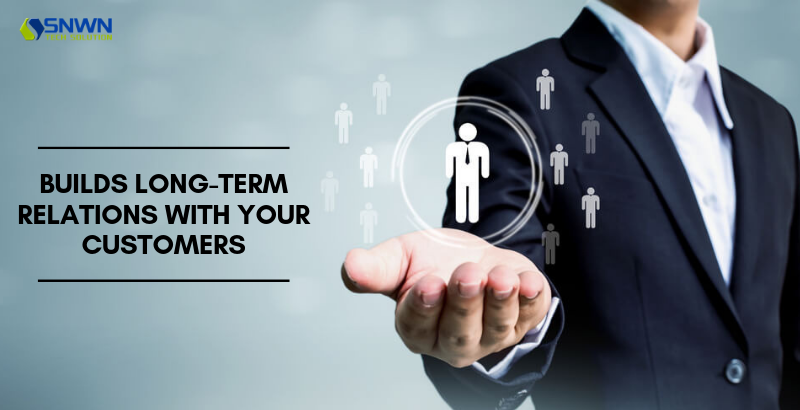 The more satisfied your customers are the more profit you will make and conversations are the best way to do that because this way you can learn about and retain them. Furthermore, if your customers are satisfied with your services, they will refer you to their friends and family. This is always a good way to expand your market. With Live chat support, you can also promote these long-term relations with your customers by assuring them that you value their inputs and happiness. Studies show that 63% of the customers who've used live chat tend to come back rather than the ones who haven't.  Thus, Live Chat is always helpful to build a satisfying long-term client-customer relationship.
The faster the communication higher is the purchases and thus, the profit. So, including a live chat support feature in the e-commerce business can also prove to be an important tactic.
Technology with a touch of personalization can never go wrong!