Whenever a company builds a product, what is the next step? To let everyone know that it exists! This is the essence of brand awareness. But, there is more to it. The company's brand represents a lot more than the logo.
It stands witness to the potential and the services it has to offer to the world. Besides, a strong brand presence can make any business stand apart and keep them ahead of the competition.
Whenever we talk about building a brand presence for an online business, it is a major step indeed. Online enterprises mostly attract customers through lucrative offers and a trustworthy reputation. A shady brand rep can destroy a business to its very ground level.
Are you a budding entrepreneur? If the answer is yes, this article is for you! Read ahead to build a strong brand presence and stand out from the rest.
What is brand presence?
The Brand presence or brand awareness is a term that acknowledges the extent of a company's reputation in the market. The potential customers can associate brand presence either with the brand or the product they offer.
However, a brand may not reach the pinnacle, but its products may be deeply rooted in the minds of the customers. What does this mean? Well, this could mean consumers have a clear image of what your business is offering, or they may pick your brand over others even if they offer cheaper solutions, etc.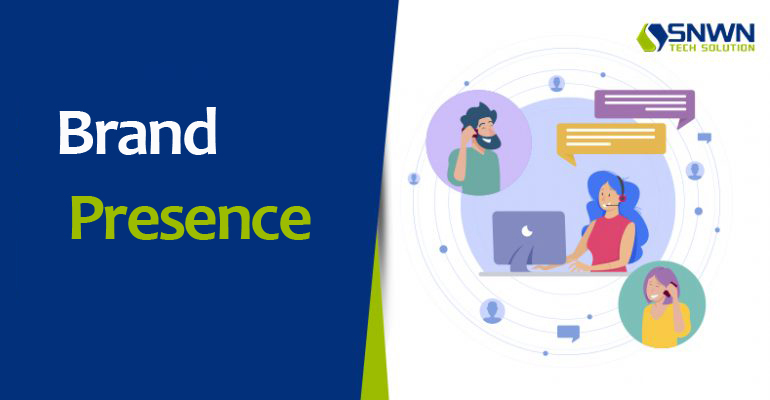 Brand Presence vs Brand Recognition: What is the difference?
Whenever you talk about building your brand, you will probably come across another term," brand recognition". Aren't they the same? This is where budding entrepreneurs often make a mistake. While both brand recognition and presence preach to the same choir, they are quite different by definition.
Brand recognition is the marker that refers to the extent customers can recognize your brand through logos and colors. For example, you would be able to make out a Domino's outlet without even reading the words, just by associating the brand with the logo or the colors.
On the other hand, brand presence or awareness takes the essence of brand recognition to a new level. It is based on associating your brand with the products or services you offer.
It provides a general feeling of the enterprise, including products, etc. Brand awareness is mostly done through marketing campaigns, advertising, etc. which incite feelings of emotions among the consumers.

Why is it important?    

The quality of the product, marketing strategies, etc. is surely an integral part of the business infrastructure. But, it is not the wheels of the operation that takes you to the top.
A company without brand awareness will not go far. In addition, brand presence is a significant step of the marketing funnel that builds your name in the business world and has the immaculate power to set it apart from the competition.
But, wait! That's not enough. Embedding the brand into the consumer's mind is the holy grail for success. The more customers associate a brand with something, the more they shift their focus toward it.

As they familiarize themselves more with your brand, it becomes quite easier to promote an enterprise across various channels, have successful product launches, gain a trustworthy reputation, and attract and retain more customers.

3 best ways to build a strong brand presence –


Building brand presence can pave the way for small businesses to reach their goals easily. It not only generates more leads but also promises a lasting impression on your consumer base.
So, how can one simply build a strong brand presence that attracts success? Here are some of the best ways you can incorporate to ensure a strong brand presence!
Influencer Marketing –



Influencers have taken social media by storm. Agree or not, they have dominated social media platforms for years. They hold a strong connection with the people, especially consumers. This can be a great way to boost your brand and generate leads.
They are great and a trustworthy way to sway the audience and gravitate them toward a brand. However, it should not be your only strategy since many consumers still choose to believe in retails.

Collaborating with established companies –
Big companies that dominate the market have spent enough time to create loyalty and a strong brand presence among the customer base. Budding businesses require to build trust to boost their sales.
Partnering with big names that emit strong trust signals among the customers can be a great way to pave your way to the market. Customers will easily be swayed by their words and would consider looking into your product or services.

A strong background –

A strong background story speaks a lot about your company. The vision, mission, etc are the foundation that can contribute to building a strong brand presence.
Feeling perplexed? Well, you can begin by asking yourself "How can my business help someone?" What is the type of audience I want to attract?" A strong business story should resonate with the audience and sieve out the target consumers, which will help you attract them to your business and use brand recognition to associate your products or services creating a strong brand awareness.

Conclusion –
Our takeaway? If you have the opportunity to partner with established businesses or famous influencers, go for it without a thought. However, words from big names will surely get you some business, but that is not enough.
A strong brand presence is built on loyalty, quality products, etc. Make sure transparency is a big part of your business journey which will allow potential customers to put their faith in your brand.
If you have an online business, building a brand presence is very important. Influencers can go a long way in this case, but incorporating customer testimonials can be a benchmark since it can be a deciding factor for attracting and retaining customers.
Whatever your business infrastructure is, it is crucial to have a personal connection with your customer base and have a strong story that resonates with them.
ALSO READ: 7 Reasons Why you Should Update your Website
ALSO READ: How To Install VPN using Remote and Routing Access (RRAS)